Online Stores for Print Shops
The smooth webstore workflow for apparel decorators
Isn't it time to stop bouncing between 4-5 different apps just to run your web stores for customers? Storeflow has everything you to run successful web stores in a single app.
We're launching soon. Stay up-to-date and secure your place on our beta invite list by entering your email above.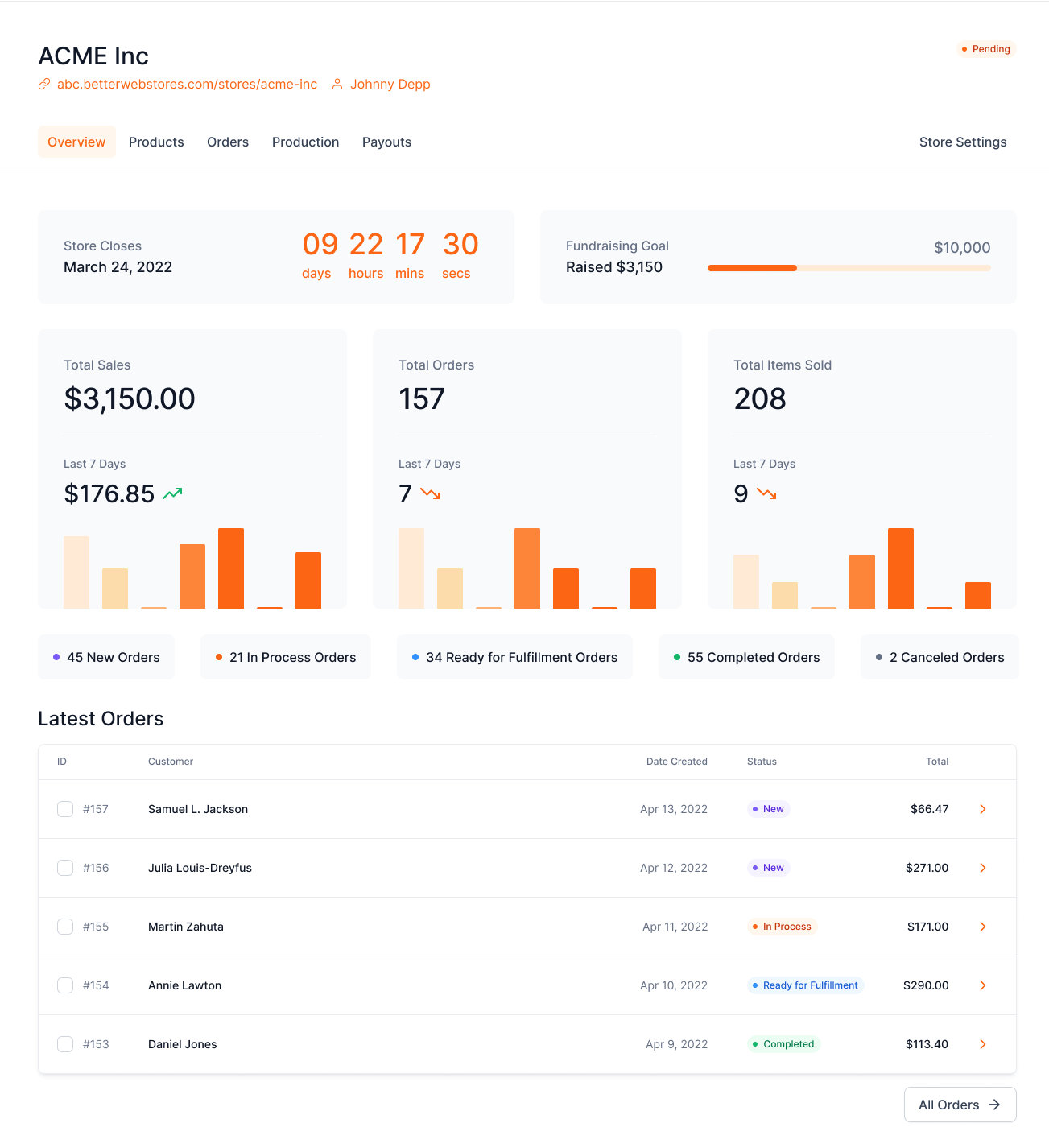 More Sales, Less Time Spent Configuring
It's all ready, already...
Get your first store setup in minutes, compared to hours or days. Manage requests for new stores, fulfill all your orders, and even pay out store owners or causes in one platform
Marketing website to convert leads
Each account gets a beautiful mini-site to market and sell your web store services to potential customers.
Launch new stores in minutes
Our easy-to-use admin makes it easy to create products and launch a store in 5 minutes or less. No training required.
Lightning-fast online stores
Our stores load twice as fast as the competition and are designed by UX experts to convert more customers in fewer steps.
Automatic sales tax calculations
Don't get caught in sales tax nightmares. We'll automatically calculate sales tax for you based on shipping addresses and where you have nexus.
Transparent dashboard for store owners
Promote trust and better customer service. Store owners can view sales, connect with buyers, and promote their store from their own private dashboards.
Automated payout process
When stores close, we'll handle payouts to your store owners / beneficiaries automatically. No more manually collecting W-9 forms and hand writing checks.
We hate stupid fees as much as you do.
Test drive Storeflow for free – no credit card required – until you are ready to launch your first store.
Simple, uncomplicated pricing
100% free until you're ready
Other tools charge you a large onboarding fee before you even get access to their platform. Some even require an email just to see pricing. Why?
Our guess is as good as yours. But maybe, it's because their software is complex to learn and takes a long time to setup.
We're flipping this model on its head. We're so convinced that our platform will help you sell, manage, and fulfill online stores for your customers, we won't charge you a penny until you're ready to publish your first store.
Once you're live, you pay a flat monthly subscription – no percentage of sales, no extra support fees, no BS.
Ready for a better webstore workflow?
Get on the list.
We're working hard to build the fastest and smoothest webstore platform for apparel decorators. Be one of the first to try it out by entering your email below.